There are big data meetups, workshops, conferences, and symposia. And then… there is IBM Insight 2014! There's only one word to describe this happenin' event: "Wow!"
The content of the event is focused on IBM's products, services, corporate strengths, and partnerships. But the theme and message is laser-focused on the light-speed transformation of business in 2014 that has been achieved through insights from big data and analytics. From the Day 1 opening laser light show and film clip that featured DataKind founder Jake Porway along with Sensemaking evangelist Jeff Jonas, to their spectacular well timed entrance into the packed 12,000-seat Mandalay Bay Arena, continuing into a vast array of workshops and hands-on labs, the first day of Insight 2014 has been like a rapid tour through multiple parallel "Alice in Wonderland" universes.
If you are not able to attend the event, you can watch at InsightGO. You can also watch participant interviews on TheCube from SiliconANGLE and Wikibon: http://siliconangle.tv/ibm-insight-2014/
Ideas and insights have filled the arena and convention center in every conversation. Attached below are some of the soundbites (harvested from presentations and conversations).
What are people talking about at IBM Insight 2014?
Analytics take big data from information to insights to innovation.
The new data-driven business is built around "Systems of Insight" that inform every decision, interaction, and process.
Systems of Insight involve more people, more places, and more data.
Big data analytics drive business integration, intelligence, and innovation.
Watson Analytics reinvents the analytics experience in the cloud — its brilliant human-computer interface gives a whole new meaning to "human factors engineering".
Cognitive Analytics with Watson generates (in real-time) the questions that you should be asking your data, through natural language dialogue, guided discovery, and fully automated intelligence.
IBM has released a suite a new services for big data and analytics, including Watson Curator, DataWorks, DashDB, and Cloudant.
The new quest for business is personalized engagement that incorporates immersive user experiences: fusing the physical world with digital interactions of all kinds.
In the era of digital marketing and real-time customer analytics, battles are won or lost in minutes (or even seconds).
A paradox in digital marketing has emerged:  outward-facing customer-centric analytics (personalization, segment of one) have forced organizations into more inward focus on big data operations.  We believe that this paradox evaporates when we realize that the focus on operations is in response to the urgent need to focus on the customer, at the right time, with the right offer, at the right place, in the right context.  That's the 360 view, and that's cognitive analytics at its best!
Fast data (big data velocity) is fast becoming the number 1 challenge, source of innovation, and revenue-generator for business.  Big data volume is so "2012", and big data variety is so "2013" (though I personally think that we have yet to see the real power and revolution in data-driven business discovery through high-variety data, particularly via fast complex streaming data emanating from multiple sensors, sources,  and signals).
The real "big data analytics" talent shortage is in finding folks who know both the analytics (data science) and the business.
The Chief Data Officer is an agent for business transformation and change in the big data era.
IBM Insight might just be the 2014 World Series of Big Data Analytics.
Perhaps the real insight at IBM Insight 2014 is that what you really need to do is "to dress for success" with the right T-shirt …: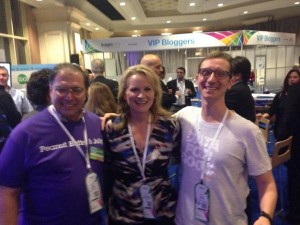 (Caption: Kirk Borne, Cortnie Abercrombie, and Jake Porway sharing a moment)
Follow Kirk Borne on Twitter @KirkDBorne